Smart City: what data governance to meet the challenges of the smart city?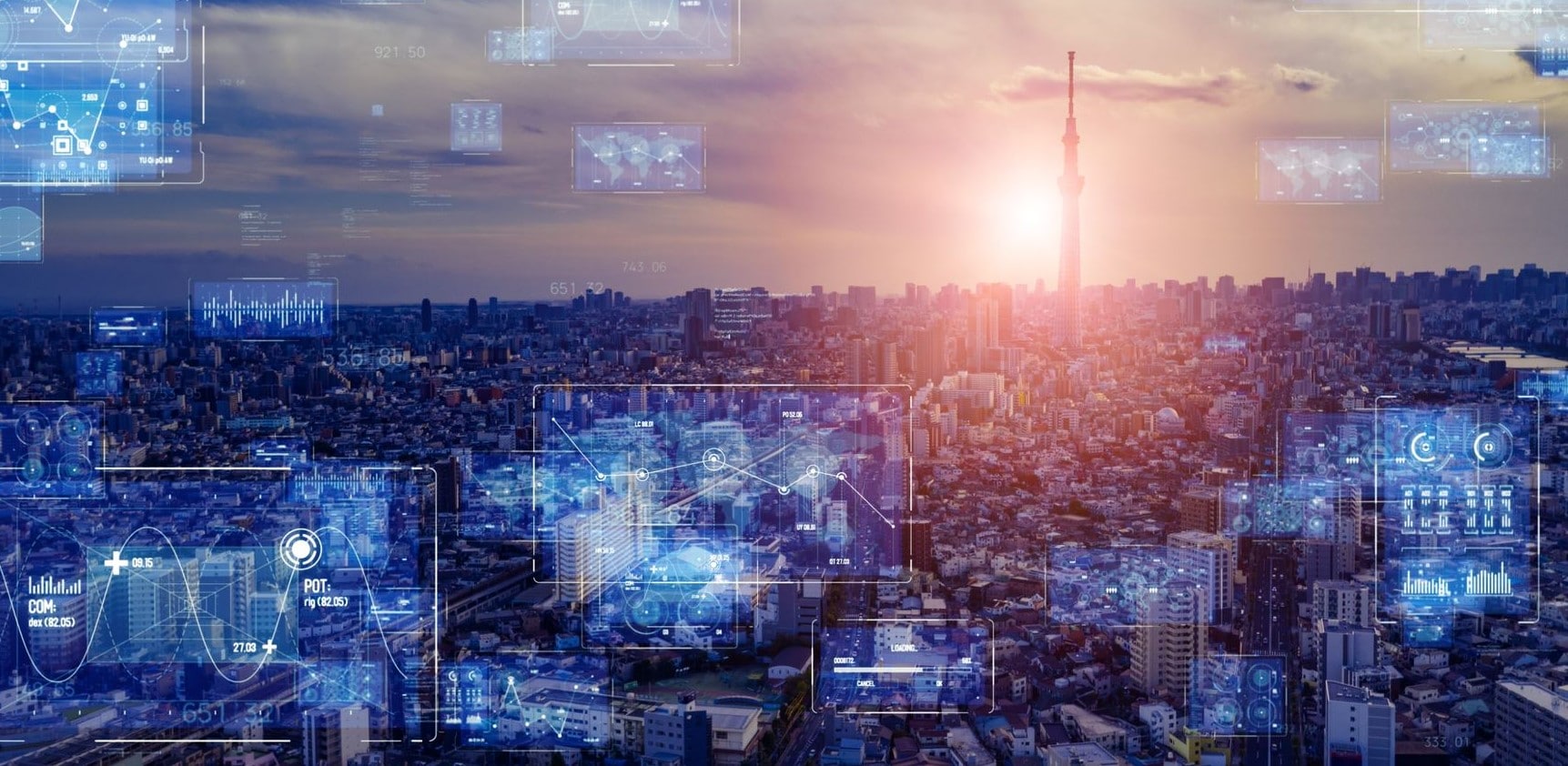 In 2050, two out of three people will live in a city. This growing urbanization is accompanied by new challenges.
How can we meet the energy needs of city dwellers in the context of the climate crisis?
What axes and services should be developed to improve the quality of life of city dwellers?
From an economic point of view, how can we optimize costs?
The Smart City is a city (or a local authority) that uses new technologies to meet these challenges: networking of urban equipment, data sensors, intelligent data analysis, etc.
Combined, these technologies help improve the quality of life by creating new services. They also help optimize costs, particularly energy costs, and implement environmental transition policies in the region.
To achieve their objectives, Smart Cities rely on data. Data is at the heart of the smart city concept, which inevitably raises questions about data governance.
What data is necessary and sufficient to ensure the optimal functioning of the Smart City? How can we ensure that the personal data of residents and the business data of operators are protected when data networking and interoperability are inherent to the Smart City concept?
Data at the heart of the Smart City
The Smart City, an "umbrella concept"
The generic concept of "Smart City" actually encompasses several sub-concepts that combine to make the city more connected and improve the quality of life of its inhabitants. Strategic and political choices will encourage local authorities to push the cursor more or less on one or other dimension.
Nevertheless, the smart city generally combines all or some of these elements:
Smart Building, which consists of optimizing the comfort and use of spaces and reducing their energy consumption.
Smart Lighting, which aims to optimize public lighting by adapting it to the uses of the inhabitants.
Smart Metering, which rationalizes the production and consumption of energy.
Smart security
Smart Services, which include innovative services for residents, such as those related to mobility, parking and the environment
Massive and heterogeneous data generation
To ensure optimal operation, the Smart City collects data related to these different areas: energy, buildings, mobility, transportation... This data is of various kinds: energy data, weather data, electric charging stations, building data, traffic lights, applications...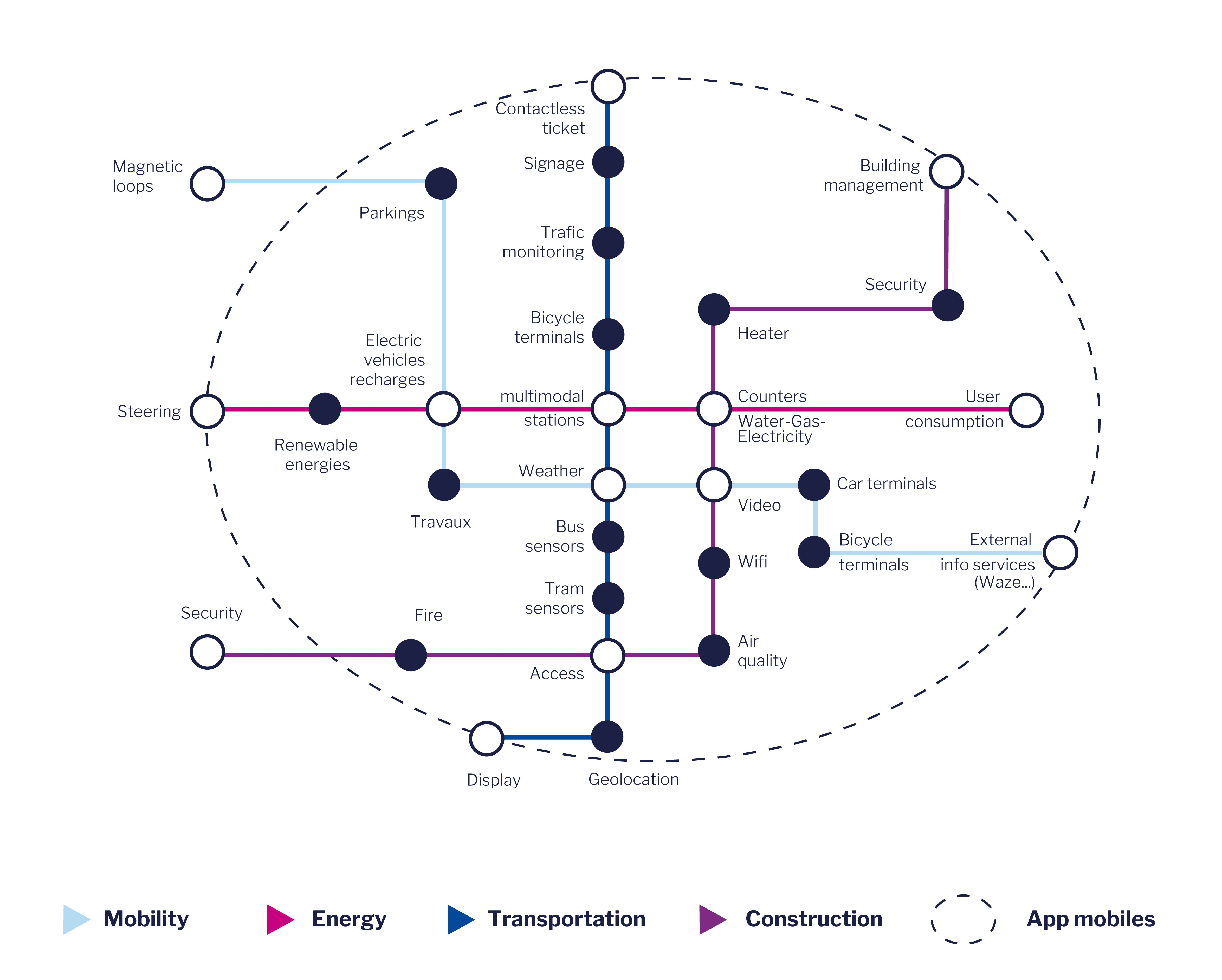 Given the development of new technologies (digital, IoT, smart sensors...), the amount of data collected is unprecedented. Moreover, this massive and heterogeneous data is intertwined. For example, if a local authority wants to switch to intelligent lighting, the management of the system requires the cross-referencing of various data: traffic, security, energy data... The question that arises is that of Data Governance: how to organize all this intersecting data?
Data Governance, a crucial issue for the Smart City
A context of mass data
Smart Cities projects are faced with a strong problem linked to the multiplication of data. Today, the question of generating data is no longer a barrier. Technologies exist to collect data and they are powerful. The development of the Internet of Things, artificial intelligence and the deployment of 5G should further intensify the production of data. But the mass of data potentially available is such that the challenge is now data governance: what data is necessary and sufficient to make the smart city work? Indeed, the Smart City concept assumes that public data can be opened to stakeholders to support decision-making.
But "open data" does not mean that all data should be made accessible to all.
Legal issues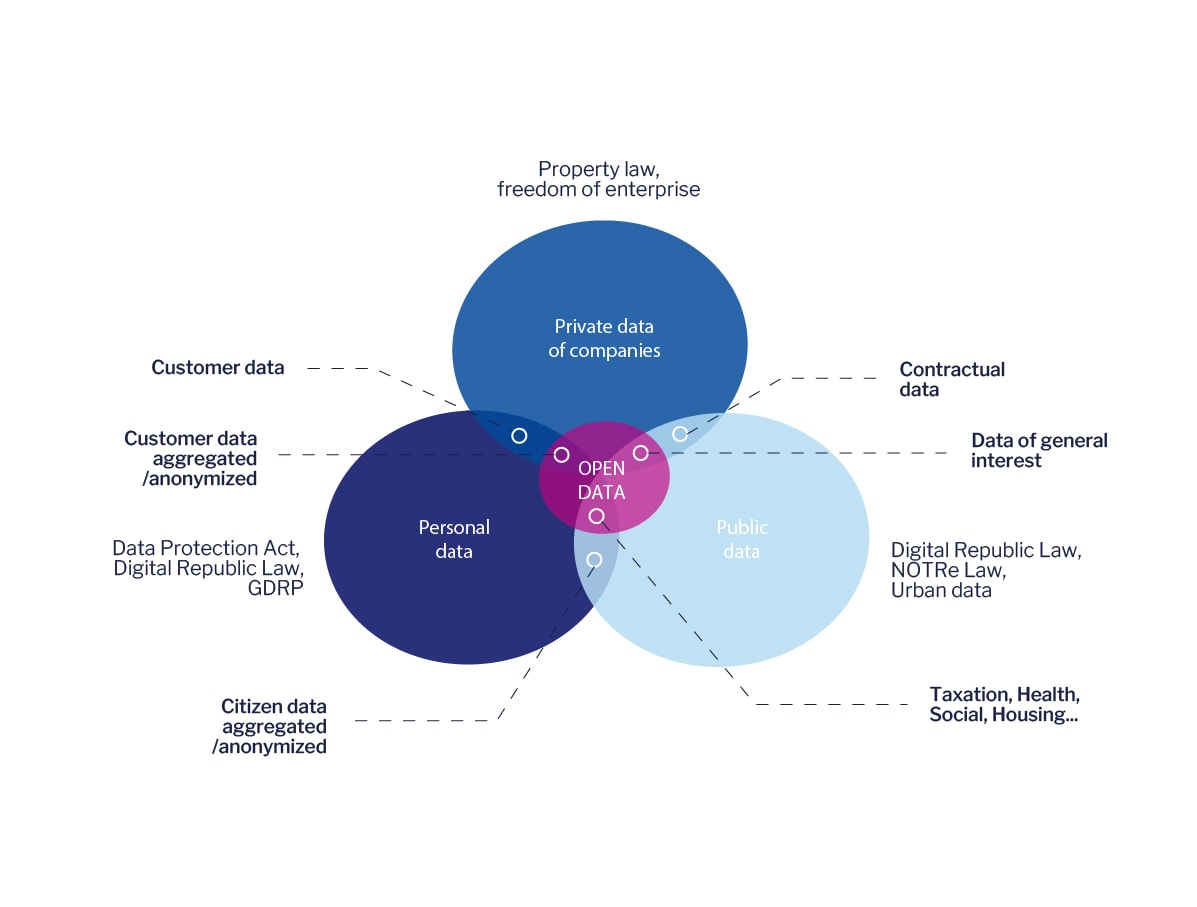 Some types of data are not intended to be uploaded into the system:
Personal data is subject to specific regulations (Data Protection Act, Digital Republic Act, RGPD)
Operators' business data is confidential and must not become accessible to their competitors
Finally, some public data do not necessarily fall within the scope of the Smart City
Data Governance consists of deciding which types of data should be uploaded to ensure that the Smart City functions in accordance with the legal framework.
Technological issues
In addition to the legal issues, data inflation raises technological questions.
If we choose to bring all the data up, we need to have greater data storage capacities. Storage infrastructures will then be more expensive and energy consuming.
Moreover, since data is very heterogeneous, there is a strong risk of creating new data silos. The challenge of the Smart City lies in the interoperability of data.
Vast sets of data, bordering on exhaustiveness, are of no interest if they cannot be cross-referenced to feed applications or business uses.
The abandonment of the projects in Paris with Cisco and Toronto with Google show that the proof of concept of the Smart City depends on optimal data governance.
The role of Data Governance
The Smart City is based on massive and heterogeneous data that intersect. It is also at the intersection of technical, regulatory, economic and political issues.
In this context, Data Governance plays a regulatory role. It avoids excessive dispersion, which could lead to technical blockages, but also to the disengagement of certain actors or even the rejection of residents.

Data governance meets several needs of the Smart City:
Making data available, exposable and exploitable for the business lines, and in particular for non-IT business profiles
Reinforce the real quality level of the data and its security
Free yourself from the origin of the data, its source, its heterogeneity and its complexity
Process primary data or meta-data
Create "self-service data

This Data Governance is based on a data intelligence system. It is precisely in this sense that we propose our Loamics solution to local authorities that adopt a Smart City type project.
How does the Loamics architecture support data governance?
Data Governance consists in making data accessible, reliable, usable, profitable and secure. Without it, local authorities will not be able to control, exploit or enhance it. Ungoverned data management carries risks:
Security breaches on public facilities and infrastructure
Risks on citizens' private data and companies' business data
The diversity of data sources to be aggregated makes it essential to use a centralized system capable of using the data, regardless of its origin. Moreover, the system must also be able to absorb the integration of future new data sources.
Loamics' software solution is the foundation of the smart city and is capable of collecting massive and heterogeneous data continuously, in real time and in an automated and industrial way.
The solution continuously manages, centralizes and homogenizes these different types of data sets to make them easily exploitable for use cases.
Located in the customer's cloud system, the modular platform provides unlimited and immediate access to the data in order to unleash its full potential and power in a totally secure manner. You can then manage access rights to ensure that only the data necessary and sufficient for their purposes is made available to third parties.
You are planning to develop your territory in a Smart City perspective. Data governance is a key success factor. But you may not have the necessary profiles and tools in-house to ensure this Data Governance.
The Loamics solution automates this work of collecting, sorting and homogenizing data. You will then be able to base your decisions and your business uses on verified, exploitable and secured data.